EFW, HFW, ERW Steel Pipe
Number of visits:3 Seconds Update time:2023-08-29
Product Name
EFW, HFW, ERW Steel Pipe
Application
Used for Oil/Gas/Low pressure fluid transmission,Machinery Manufacturing
Size
OD: 21.3-660mm
WT: 1.0-20mm
LENGTH: 3-12m, or according to customer's requirement
Standard
API 5L PSL1/PSL2 Gr.A,Gr.B,X42,X46,X52,X56,X60,X65,X70
ASTM A53: GR.A, GR.B, ASTM A500 JIS G3466
ASTM A252 ASTM A178
AN/NZS 1163 AN/NZS 1074
EN10219-1 EN10217-1,S275, S275JR, S355JRH, S355J2H
Surface
Bare, Lightly Oiled, Black/Red/Yellow Painting, Zinc/Anti-corrosive Coating
End
Square Ends/Plain Ends (straight cut, saw cut, torch cut), Beveled/Threaded Ends
Heat treatment
NBK(+N) GBK(+A) BK(+C) BKW(+LC) BKS(+SR)
Packing
Bundled/In Bulk, Plastic Caps Plugged, Waterproof Paper Wrapped
Product Details of ERW steel pipe
Pipe End: square ends (straight cut, saw cut, and torch cut). or beveled for welding, beveled,
Surface: Lightly oiled, Hot dip galvanized, Electro galvanized, Black, Bare, Varnish coating/Anti rust oil, Protective Coatings (Coal Tar Epoxy, Fusion Bond Epoxy, 3-layers PE)
Packing: Plastic plugs in both ends, Hexagonal bundles of max. 2,000kg with several steel strips, Two tags on each bundle, Wrapped in waterproof paper, PVC sleeve, and sackcloth with several steel strips, Plastic caps.
Test: Chemical Component Analysis, Mechanical Properties (Ultimate tensile strength, Yield strength, Elongation), Technical Properties (Flattening Test, Bending Test, Hardness Test, Impact Test), Exterior Size Inspection, Hydrostatic Test, NDT TEST ( ET TEST, RT TEST, UT TEST)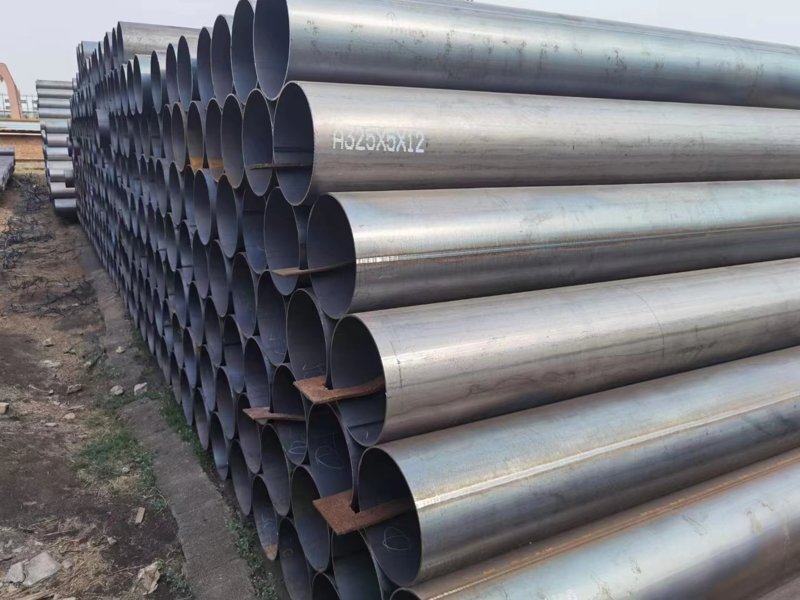 For ERW Line Pipe For ERW Casing
For ERW Structure Tube
For High pressure and high temperature
Product Advantages of ERW Steel Pipe
Advantages of erw steel pipe are following below:
A) High dimensional accuracy. ERW steel pipe diameter and wall thickness than the seamless steel pipe deviation is much smaller, because the strip rolling and pipe forming easy to control, so high dimensional accuracy.
B) Good mechanical properties. As the ERW steel pipe with easy control of rolling, with the welding technology and on-line heat treatment technology, the performance of the weld can be controlled, so straight seam welded steel pipe elongation than seamless steel pipe 8% -10% higher, which Is because the straight seam electric-welded pipe carbon content of less than 12% lower than the seamless tube.
C) ERW steel pipe with high concentricity, uniform wall thickness. Weld after heat treatment, microstructure uniform, with a strong ability to collapse collapse.
D) As the extension of the steel is good, straight seam sewing machine sister pipe flattening test is better than seamless.
E) The impact toughness of ERW steel pipe is higher than that of seamless steel pipe.
F) Longitudinal resistance welded pipe is not welded into the dissimilar metals, but also undergo a rigorous on-line heat treatment, so the basic performance of the weld and material properties.