Polyurethane Foam Insulation Pipe
Update time:2023-08-30
Polyurethane Foam Insulation Pipe brief introduction
---
Polyurethane Foam Insulation Pipe refers to a pipeline that has been equipped with thermal insulation to reduce heat transfer between the transported contents and the surrounding environment.
Insulated pipelines are used in various industries and applications to maintain the temperature of fluids (liquids or gases) being transported, prevent condensation, improve energy efficiency, and protect the pipeline from temperature-related stress.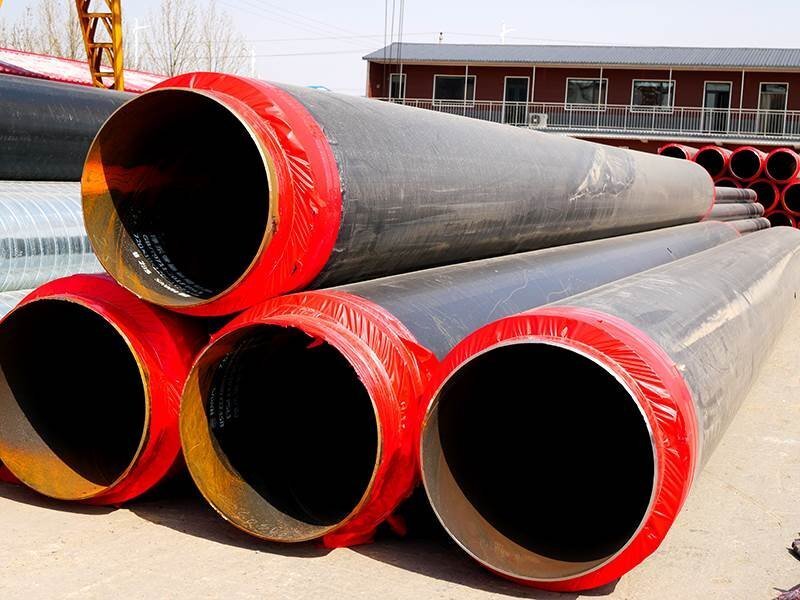 PRODUCT PARAMETERS
---
Product Indexes
Reference Standard
Standard Requirement
Our product value
Outer protection pipe
Density (kg/m3 )
CJ/T114-4.2.3.1
≥940
948.2
Elongation at break (%)
CJ/T114-4.2.3.4
≥350
618
Tensile yield strength (MPa)
CJ/T114-4.2.3.4
≥19
20.5
Longitudinal shrinkage rate (%)
CJ/T114-4.2.3.5
≤3
1.23
Long term Mechanical properties
CJ/T114-4.2.3.6
>1500h(80℃,4.0 MPa)free from damage
Pass
The difference of the melt flow rate (g/10min)
CJ/T114-4.2.3.2
≤0.5
0.11
Carbon Black Content %
CJ/T114-4.2.3.1
2.5±0.5
2.4
Polyurethane insulation layer
Density (kg/m³)
CJ/T114-4.3.2
≥60
71.1
Average pore size (mm)
CJ/T114-4.3.1
≤0.5
qualified
Percentage of close area(%)
CJ/T114-4.3.1
≥88
94
Compressive strength(MPa)
CJ/T114-4.3.3
≥0.3
0.58
Water absorption(%)
CJ/T114-4.3.4
Immersion in boiling water 90 minutes, bubble water absorption should be not more than 10%
≤5.53
Working steel pipe
Seamless steel pipe(≤DN150)
GB8163
20#
qualified
Spiral steel pipe(≥DN200)
GB/T9711 or SY/T5037
Q235B
qualified
PRODUCT FEATURES
---
| | |
| --- | --- |
| Product name | Thermal insulation direct buried pipe |
| Length | 5.8m-12m, or by customer's requirements |
| Nominal diameter | DN25-1800 |
| Laid way | Buried |
| Application | Fluid Pipe, Natural gas, Gas, Oil, Hydraulic, chemical, drill, etc. |
| Production Standard | The national standard GB/T29047-2012, CJ/T114-2000, CJ/T155-2001 |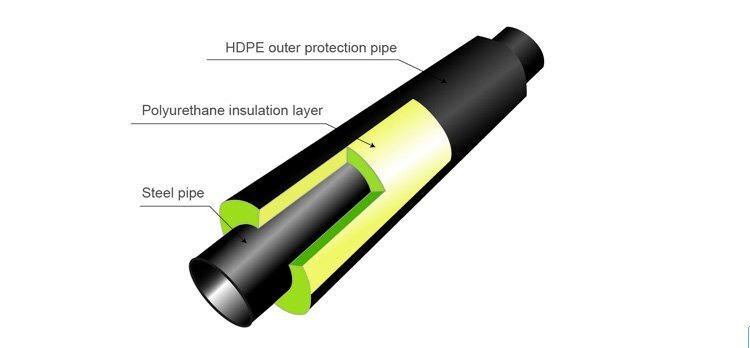 Pipe insulation what material good ?
---
Foam tubing, available in different sizes, designs, and structures, is used for pipe protection. The important factor to take into account when selecting foam tubing is the material used to produce it. This material-type's thermal insulators are usually made of porous materials — glass or mineral wool, rubber, polystyrene, polyurethane, or polyethylene foam.
Polyurethane-foam tubing is often used to insulate central heating and domestic-water pipelines. This material is resistant in the temperature range -50°C to 135°C, and has a low heat-transfer coefficient. Such a thermal insulator is rigid, and protects pipes from damage. Tubing made of polyurethane foam is distinguished by its high level of resistance to chemicals. It comes in a soft, hard, and super-hard versions.
Polyethylene foam is also well-suited for insulating straight pipelines. It is almost totally water-repellent, highly flexible, and easy to apply to pipes. It is resistant to temperatures ranging from -80°C to 105°C. A thin polyethylene foam will protect pipes from heat-escape.
Both polyurethane and polyethylene foam tubing protects pipes against contact with the ground, guarding against plaster damage. Moreover, its application eliminates the noise associated with the system's operation. Thus, foam tubing prevents heat-escape and eliminates cost increases. It, moreover, improves safety, and provides greater comfort for residents.
FAQ
---
1: Are you manufacturer or a trader?
Yes, we are manufacturer, so we can control the quality and can give you the best price.
2:Where are you?
We are in Cangzhou city, Hebei province, China
3: Do you have free sample ?
No, our samples are paid, one contains color samples and company brochures, the price is 12.99 US dollars, and we will not include shipping costs, please know.
4: On your website, I didn't find the insulated outer casing that I needed. Can I customize it?
Yes, of course, we can customize PVC insulation shell accessories according to your requirements.
5: What is your Payment Terms?
Tooling?Fee 100%?before?development.?Batch?Order?30%?T/T?deposit?before?production,?70%?balance?before?delivery.
6:Can I have my own logo and my own package?
Yes, we can make customer's logo and package.
7: How long is your delivery time?
Under normal circumstances, if there is enough inventory in the warehouse, we can ship within 5 days. If there is no inventory, our production cycle is about 15-45 days according to your order quantity. If it is a custom product, it takes one month.